Welcome to the portfolio of Chitra Ramanathan
Please click on one of the galleries below. Please note: Prices for currently available artwork include packing and shipping costs.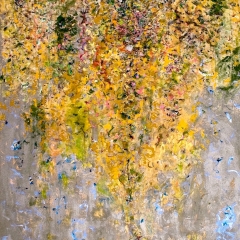 Born in Thiruvananthapuram, India, Chitra Ramanathan is a contemporary Indian American visual artist and educator. She produces predominantly large scale abstract conceptual mixed media and acrylic paintings, drawings, prints, and site-specific public art installations including murals.

Chitra's body of predominantly large-scale paintings expressed through intense colors and multiple layers of textures, interact with light to "challenge the boundaries of their two-dimensional surfaces". They are inspired by the short-lived beauty of garden blooms and cyclical change in seasons, characteristics that the artist compares with the continually evolving, ephemeral, fleeting and enticingly beautiful happiness' "formless form": a phrase she has coined to describe her concept. The hint of circles almost always present in her paintings signify the cycle of human life.

Chitra Ramanathan received her Bachelor of Fine Arts degree in 1993, majoring in Painting with honors, and her M.B.A in 1997 with concentrations in Human Resources and Art Museum Administration from the University of Illinois at Urbana-Champaign. Following her B.F.A degree, her paintings were recognized by art critics through exhibitions on Broadway, New York, with several originals being acquired by various buyers within the U.S and abroad. Her biography and work have been featured in several distinguished publications and books.

An interview with Chitra Ramanathan by the University of Illinois Alumni Network (UIAAAN) took place in early summer and published September 2016.

The detailed interview traces the artist's journey from a young age while growing up as a child artist in India, her engagement with the art world while enrolled and working on her degree in the M.B.A program at College of Commerce & Business Administration, University of Illinois Art at Urbana-Champaign, and her current involvements in her career as an established contemporary visual artist, with Painting as her chosen area within the realm of art.

Full interview featured at the following link: Please click: http://www.uiaaan.org/article.html?aid=454h

The Creative process begins long before a brush touches the canvas but with Chitra it continues and grows throughout the entire painting" – Video Interview with contemporary visual painter Chitra Ramanathan by ArtSpecifier's Joyce CREIGER
© Chitra Ramanathan 2017. All Rights Reserved. No Reproductions.